Hersteller:
Dark Horse Comics, Inc.
B.P.R.D.: Plague of Frogs Vol. 4
von Mike Mignola, John Arcudi & Guy Davis
Texter: Mike Mignola & John Arcudi
Künstler: Guy Davis
Titelbild: Mike Mignola
Die Ausgabe beinhaltet B.P.R.D.: THE BLACK GODDESS # 1-5, B.P.R.D.: THE WARNING # 1-5, B.P.R.D.: KING OF FEAR # 1-5, ein Vorwort von Scott Allie, ein Nachwort von John Arcudi und Bonusmaterial.
456 Seiten
Originalpreis: $ 24,99
2001 verließ Hellboy das B.P.R.D. und ließ Abe Sapien zurück, der seither Liz Sherman und eine seltsame Gruppe von Spezialagenten anführt, die die Welt vor okkulten Bedrohungen verteidigten - inklusive der wachsenden Bedrohung durch die Froscharmee, die zum ersten Mal in Hellboy: Seed of Destruction auftrat.
Mike Mignola und Dark Horse präsentieren die komplette Plague of Frogs-Saga - von Hollow Earth bis King of Fear.
Eine Geschichte, die in der ersten Hellboy-Ausgabe begann, findet ihren Abschluß mit dem BPRD-Team, dass versucht die unterirdische Kolonie der Froschmonster für immer zu vernichten.
Das Team findet Memnan Saa's Versteck, aber schon kurz darauf finden sie sich selbst über ihren Köpfen, als alte Gegner wie Black Flame eintreffen, um die Welt zu zerstören.
Passend zu diesem Comic:
| | |
| --- | --- |
| Lieferzeit: | 3-5 Tage (s.a. Kundeninfo/Lieferzeiten) |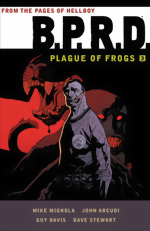 | | |
| --- | --- |
| Lieferzeit: | 3-5 Tage (s.a. Kundeninfo/Lieferzeiten) |