Hersteller:
Dark Horse Comics, Inc.
Terminator: The Burning Earth
von Ron Fortier & Alex Ross
Texter: Ron Fortier
Künstler: Alex Ross
Die Ausgabe beinhaltet TERMINATOR: THE BURNING EARTH # 1-5, ein Vorwort von Brandon Graham und ein Nachwort von Alex Ross.
136 Seiten
Originalpreis: $17.99
Erleben Sie die Geburt einer künstlerischen Legende mit Alex Ross erster professionellen Arbeit! Die fünfteilige Miniserie erschien ursprünglich 1990 bei NOW Comics und wurde von Dark Horse Comics endlich in einem Band wiederveröffentlicht.
Als Skynet eine Nuklearschlag vorbereitet, um die Menschheit zu beseitigen, führt John Connor ein kleines Team an, dass die künstliche Intelligenz zerstören soll.
Passend zu diesem Produkt:
| | |
| --- | --- |
| Lieferzeit: | 3-5 Tage (s.a. Kundeninfo/Lieferzeiten) |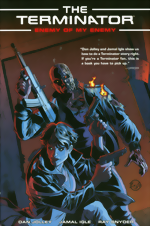 | | |
| --- | --- |
| Lieferzeit: | 3-5 Tage (s.a. Kundeninfo/Lieferzeiten) |
| | |
| --- | --- |
| Lieferzeit: | 3-5 Tage (s.a. Kundeninfo/Lieferzeiten) |