Green Hornet `66 Meets The Spirit
von Fred Van Lente & Bob Q
Texter: Fred Van Lente
Künstler: Bob Q
Die Ausgabe beinhaltet GREEN HORNET ´66 MEETS THE SPIRIT # 1-5.
124 Seiten
Originalpreis: $ 19,99
Eine weitere Herausforderung für Green Hornet, seinem Gehilfen Kato und ihrem rollenden Arsenal: Die Black Beauty!
Laut Polizeiakten ein gesuchter Verbrecher, ist Green Hornet tatsächlich Britt Reid, Eigentümer und Herausgeber des The Daily Sentinel.
Jetzt sind Reid und Kato nach Central City gereist, um an der futuristischen World´s Fair teilzunehmen und "Newspaper of Tomorrow" zu erhalten, einem Gerät, dass Schlagzeilen vorhersagen kann, bevor die Ereignisse passieren! Aber ist das nicht eine gefährliche Macht für die Presse, um damit herumzuwedeln?
... Aber wer ist der blaugewandte Schleicher im Schatten? Das kann nicht der Spirit sein. Oder doch?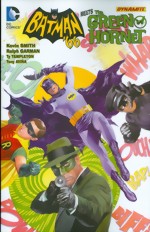 | | |
| --- | --- |
| Lieferzeit: | 3-5 Tage (s.a. Kundeninfo/Lieferzeiten) |
| | |
| --- | --- |
| Lieferzeit: | 3-5 Tage (s.a. Kundeninfo/Lieferzeiten) |