Strange Adventures (DC Black Label)
von Tom King, Mitch Gerards & Evan "Doc" Shaner
Text und Kunst: Tom King, Mitch Gerards & Evan "Doc" Shaner
Die Ausgabe beinhaltet STRANGE ADVENTURES # 1-12 und eine Titelbildgalerie.
376 Seiten
Originalpreis: $ 29,99
Held oder Kriegsverbrecher!
Bestsellerautor Tom King ist zurück mit einem neuen Epos, das einen der klassischen Science-Fiction-Abenteurer von DC, Adam Strange, neu erfindet und untersucht, ob seine Taten heldenhaft oder schändlich waren.
In diesem neuen Science-Fiction-Epos von Bestsellerautor Tom King wird die klassische DC-Abenteuerfigur Adam Strange neu erfunden. Der auf der Erde geborene und auf dem fernen Planeten Rann lebende Adam Strange ist in der ganzen Galaxis für seine Tapferkeit und seine Ehre bekannt. Nachdem er seine Wahlheimat in einem großen Planetenkrieg zum Sieg geführt hat, ziehen sich Adam und seine Frau Alanna auf die Erde zurück, wo sie mit Jubel, Auszeichnungen und Paraden begrüßt werden.
Aber nicht alles ist so, wie es scheint, denn die Entscheidungen, die Adam während der Schlachten auf Rann getroffen hat, werden von seiner Familie wieder eingeholt. Es bedarf einer Untersuchung durch einen der brillantesten Helden des DC-Universums, Mr. Terrific, um die Wahrheit aufzudecken und herauszufinden, ob Adam Strange ein Held oder eine Schande ist.
Das "Mister Miracle"-Team, bestehend aus Autor Tom King und Comiczeichner Mitch Gerads, hat sich mit dem bei den Fans beliebten Künstler Evan "Doc" Shaner zusammengetan, um Ihnen eine epische Geschichte in der Tradition von Watchmen, The Dark Knight Returns und DC: The New Frontier zu liefern - eine Geschichte über Blut, Krieg und Liebe, über die die Leser noch jahrelang sprechen werden.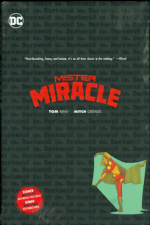 | | |
| --- | --- |
| Lieferzeit: | 3-5 Tage (s.a. Kundeninfo/Lieferzeiten) |
| | |
| --- | --- |
| Lieferzeit: | 3-5 Tage (s.a. Kundeninfo/Lieferzeiten) |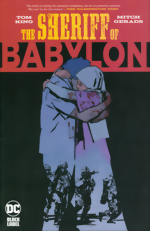 | | |
| --- | --- |
| Lieferzeit: | 3-5 Tage (s.a. Kundeninfo/Lieferzeiten) |