Hersteller:
Dynamite Entertainment
Batman `66 Meets The Green Hornet
von Kevin Smith, Ralph Garman & Ty Templeton
Texter: Kevin Smith & Ralph Garman
Künstler: Ty Templeton mit Jon Bogdanove, Vicente Cifuentes, Roberto Flores, Andres Cruz, Carlos Munoz & Ted Keys
Titelbild: Alex Ross
Die Ausgabe beinhaltet BATMAN `66 MEETS THE GREEN HORNET # 1-6.
144 Seiten
Heiliges Crossover!
Zwei Ikonen der schwingenden Sechziger - Batman und Green Hornet - im Kampf gegen den Joker, dem Clownprinz des Verbrechens.
Doch nachdem sich Britt Reid und sein Diener Kato als Schurken verkleidet haben, um die Unterwelt aufzumischen, stellt sich die Frage, ob das dynamische Duo Batman und Robin ihre alten Freunde rechtzeitig wiedererkennen, um den Joker in die Schranken zu weisen!
Die größten kostümierten Verbrechensbekämpfer der Sechziger springen aus dem Bildschirm und in die Seiten ihres eigenen Comic-Team-ups!
| | |
| --- | --- |
| Lieferzeit: | 3-5 Tage (s.a. Kundeninfo/Lieferzeiten) |
| | |
| --- | --- |
| Lieferzeit: | 3-5 Tage (s.a. Kundeninfo/Lieferzeiten) |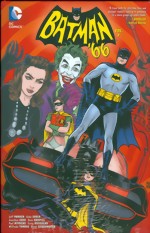 | | |
| --- | --- |
| Lieferzeit: | 3-5 Tage (s.a. Kundeninfo/Lieferzeiten) |