Hersteller:
Dark Horse Comics
Sin City Vol. 7: Hell and Back
von Frank Miller
Text und Kunst: Frank Miller
Die Ausgabe beinhaltet SIN CITY: HELL AND BACK # 1-9 und eine Titelbild- und pinup-Galerie.
328 Seiten
Erleben Sie das umfangreichste, böseste Garn, das die raue und blutgetränkte Stadt zu bieten hat! Dieser Band des gefeierten crime noir wird mit einem neuen, umlaufenden Cover von Frank Miller präsentiert.
In der Stadt ohne Mitleid sind gute Männer schwer zu finden. Hier kommt Wallace, ein Mann voller Geheimnisse. Wallace lebte ein ziemlich einfaches Leben, ein guter Kerl, ein Künstler, der versuchte, seinen Weg zu machen, aber nicht bereit war, dafür seine Prinzipien zu opfern. Bei einem abendlichen Ausflug an den Strand trifft er die Frau seiner Träume - und sie versucht, sich umzubringen. Aber warum? Er rettet Esther vor einem Selbstmordversuch und verliebt sich in sie. Und wer sind die schattenhaften Kabalen der Machtmakler, die sie ihm aus den Armen reißen?
Doch bevor sie ihre Gründe erklären kann, wird sie von einer finsteren Organisation entführt, die nichts Gutes im Schilde führt. Glücklicherweise ist Wallace nicht nur ein guter Mensch. Er ist nicht der Typ, der den Kopf verliert, er ist wirklich gut darin, Menschen zu töten. Und er tötet jeden, der getötet werden muss, wenn ihn das näher an Esther heranbringt. Er fährt zur Hölle ... und zurück.
Die Comic-Legende Frank Miller, Schöpfer des bahnbrechenden Batman: The Dark Knight Returns, legt mit Sin City: Hell And Back seine bisher längste graphic novel vor, ein knallhartes Trommelfeuer aus brutaler Action, dunklen Geheimnissen und heldenhaften Opfern. Was soll's - es ist eine Liebesgeschichte!
| | |
| --- | --- |
| Lieferzeit: | 3-5 Tage (s.a. Kundeninfo/Lieferzeiten) |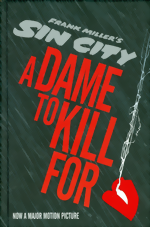 | | |
| --- | --- |
| Lieferzeit: | 3-5 Tage (s.a. Kundeninfo/Lieferzeiten) |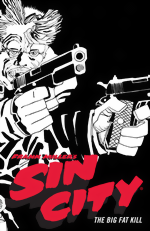 | | |
| --- | --- |
| Lieferzeit: | 3-5 Tage (s.a. Kundeninfo/Lieferzeiten) |