Hersteller:
Dynamite Entertainment
Boys Vol. 01: The Name Of The Game
von Garth Ennis & Darick Robertson
Texter: Garth Ennis
Künstler: Darick Robertson
Die Ausgabe beinhaltet THE BOYS # 1-6, eine Einleitung von Filmstar Simon Pegg und Bonusmaterial.
152 Seiten
Billy Butcher, Wee Hughie, Mother´s Milk, Frenchman und Female sind die Boys, ein von der CIA unterstütztes Team von sehr gefährlichen Leuten - jeder von ihnen widmet sich dem Kampf gegen die gefährlichste Kraft auf Erden: Superkräfte. Einige Superhelden werden überwacht. Einige werden kontrolliert. Und einige von ihnen müssen - manchmal - aus dem Bild herausgeschnitten werden.
Dann werden die Boys gerufen.
Verpassen Sie nicht diesen dunklen, verdrehten Blick auf Superkräfte, Supermenschen und die Männer und Frauen, die dafür sorgen, dass die "Helden" der Welt niemals zu weit gehen.
Passend zu diesem Comic: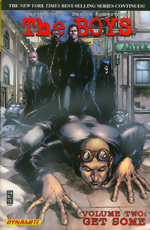 | | |
| --- | --- |
| Lieferzeit: | 3-5 Tage (s.a. Kundeninfo/Lieferzeiten) |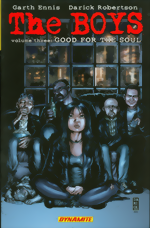 | | |
| --- | --- |
| Lieferzeit: | 3-5 Tage (s.a. Kundeninfo/Lieferzeiten) |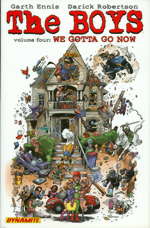 | | |
| --- | --- |
| Lieferzeit: | 3-5 Tage (s.a. Kundeninfo/Lieferzeiten) |