Hersteller:
Dynamite Entertainment
Bettie Page: The Princess And The Pin-Up
von David Avallone, Julius Ohta & Jordon Michael Johnson
Text und Kunst: David Avallone, Julius Ohta (# 1-4) & Jordon Michael Johnson (# 5)
Die Ausgabe beinhaltet BETTIE PAGE: THE PRINCESS AND THE PIN-Up # 1-5 und eine Titelbildgalerie
132 Seiten
Originalpreis: $ 19,99
Bettie trifft die Queen! Weitere freigegebene Hjinks aus The Secret Diary Of Bettie Page.
Die neue Königin von England ist auf mysteriöse Weise verschwunden, und der britische Geheimdienst braucht die Hilfe der weltbesten Modelspionin!
Kann Bettie die Erste Elisabeth die Zweite finden, bevor die Nachricht die Runde macht und ganz Großbritannien in Panik versetzt? Sind gar UFOs im Spiel?
David Avallone und Julius Ohta zeigen Ihnen all die Dinge, die sie aus THE CROWN herausgeschnitten haben, während Bettie in THE PRINCESS AND THE PINUP zurückkehrt!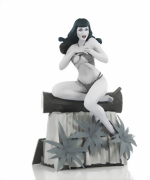 | | |
| --- | --- |
| Lieferzeit: | 3-5 Tage (s.a. Kundeninfo/Lieferzeiten) |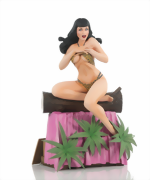 | | |
| --- | --- |
| Lieferzeit: | 3-5 Tage (s.a. Kundeninfo/Lieferzeiten) |
| | |
| --- | --- |
| Lieferzeit: | 3-5 Tage (s.a. Kundeninfo/Lieferzeiten) |